How to Do a Smokey Eye for Blue Eyes? Let's Find Out
Smokey eye makeup is among the styles that best suit blue eyes. Smokey eye makeup is frequently preferred by women with blue eyes to make their eyes stand out and achieve a dramatic look.
Black smokey eye makeup is now being replaced by blue, red, pink, purple, brown and gold tones. You can also use copper, gray and blue tones.
Add shimmer to dark eye makeup to look particularly assertive and attractive and complete this look with plump eyelashes.
If you need a roadmap for smokey eye makeup, let's explain step by step for you:
How to Do a Smokey Eye for Blue Eyes
First, apply some primer to the eyelids and apply eye shadow in yellow or gold tones just above the eyelids.
Apply dark shadows to the entire eyelids.
Do the same to the lower eyelids.
Use a thin eyeliner on the bottom of your eyelashes.
Finally, complete your makeup by applying mascara to your eyelashes.
Get Inspired by Celebrities!
We can say that celebrities are the best makeup source for blue eyes. Since they work with professional consultants, you can see the most accurate make-up models suitable for eye colors and eye shapes on them.
Taylor Swift is one of the celebrities we recommend following. You can see the answers to many questions, such as eyeliner application suitable for blue eyes and how to do a smokey eye for blue eyes in Taylor Swift makeup samples.
When she applies to copper, bronze or smokey eye makeup to her eyes, Swift, who prefers plain and peach tones for her lips, conveys that using lipstick for blue eyes is actually about eye makeup.
By applying only eyeliner, she chooses to highlight her lips with red lipstick in a simpler eye makeup, which she prefers with eyeliner and mascara.
The Most Common Makeup Myths for Blue Eyes
False: Use eye makeup the same color as your eye
True: Use a two-tone light color, orange or peach tones
False: Use thick, black eyeliner
True: You should use eyeliner to accentuate the eye shape, but keeping it on the thin side is better. And in fact, it would be more appropriate to use dark gray and navy blue eyeliner instead of black.
False: Use purple tones in eye makeup
True: If you like purple, you can choose dark shades like damson.
Which Lipstick Colors Suit Blue Eyes?
When deciding on the most suitable make-up model for your blue eyes, you should consider not only eye makeup but also what shades to use on your lips.
We suit blue eyes mostly with peach and nude shades and matte red lipsticks. So which one should you choose? At this point, let's say that eye makeup is the decisive factor.
The simple or smokey one among the blue eye makeup models. Depending on your choice, you should stand out your lips or keep them in the background.
If your eye makeup is assertive, you can choose more natural tones on your lips. That's why we recommend choosing lipstick in peach and nude shades for smokey eye makeup.
However, if you prefer plain eye makeup, you can also highlight your lips. Dark red, matte lipsticks that are not too bright and eye-catching will be suitable to add power to the look.
How to Make Natural Makeup for Blue Eyes?
People with minimalist styles prefer plain makeup. Well, if you ask how should natural makeup for blue eyes be, let's explain it step by step:
1. Apply gold or beige shade to your entire eyelid.
2. Stand out the eyelid by applying a brownish shadow just above the eyelid.
3. Lightening application around the eye fountains
4. Apply a thin eyeliner to the bottom of the eyelashes according to your eye shape.
5. Finally, complete your make-up by applying mascara in black or brown tones! Are you ready?
See Also: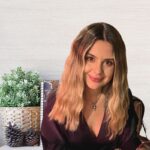 As a nutritionist, I research, find and experiment with recipes, natural diets and meal plans for weight loss, bodybuilding, and detoxing.