How to do Eye Makeup for Blue Eyes
Blue eyes are soothing and gorgeous, but the wrong makeup can make them look dull and pale.
The right makeup, however, can make your beautiful blue eyes stand out, making them look brighter. If you want to find out which makeup styles and colors suit you best, this article is for you!
Let's look at what are the most beautiful shades of blue eyes that stand out even without make-up and what colors should blue-eyed people use for their eye makeup?
Eye Makeup For Blue Eyes
Use Primer Before Eye Shadow
Using a primer before eyeshadow ensures the color of the eyeshadow is fixed and can make your eyes appear brighter.
Makeup Style
Before choosing the eyeshadow color according to the color of the eyes, it will make your job easier to determine the makeup style.
Whether casual or dark night style, it's helpful to decide on the style before you decide on the color.
Copper / Bronze Colors
Copper and bronze tones are some of the most important colors that emphasize blue eyes and bring out the brightness of the color.
You can make shadowy make-up with these colors or you can use them as a single color if you want. While these shades alone look quite ordinary on another eye color, they appear deeper in blue eyes and add depth to the look.
Brown
Another color that blue eyes can use is brown tones. Brown eyeshadow suits blue-eyed people better. The brown eyeliner you will blend with bronze eyeshadow will look good on your blue eyes. It is a color that gives depth and is effective in revealing your eyes.
Orange
Since orange is in contrasting harmony with blue, it emphasizes the color of your eyes even more. If you think orange is too much of an exaggeration, you can soften it by blending it with bronze colors or you can go for a little more peach and apricot tones.
Grey
Grey is also an impressive color for blue eyes. This color, which turns the color of your eyes slightly blue-grey, allows you to get more misty and blurred looks.
Damson / Burgundy
One of the best colors for blue eyes is damson and its tones. The color of your eyes looks more vivid and bright with a shadow or pencil of these colors.
Even pastel pinks create an extra romantic atmosphere in blue eyes.
Tips For Applying Eyeshadow On Blue Eyes
When using orange, brown and bronze tones, apply more intense colors on the bottom of the eyelashes and lighter on the upper eyelid.
If you are going to make a tail with eyeshadow for your eyes, the tail part should be lighter.
Never apply blue eyeshadow to blue eyes!  If you want, draw a blue pencil on your lower lashes. This will look better.
Which Color Eye Shadow is Suitable For Light, Medium and Dark Blue Eyes?
There are different shades of blue ranging from dark blue to blue-green. Here are some color suggestions based on shades of blue:
If you have dark blue eyes, use light brown or pastel shades of orange.
If you have light blue eyes, you can use neutral brown and orange or bronze tones.
If you have blue-green eyes, use bronze, orange, red, and warm earth colors.
If you have bright blue eyes, choose colors such as ash, gold and gray.
Eyeliner
Since black eyeliner creates a bad look on light eyes, you can choose dark gray or navy blue tones instead of black eyeliner.
As a result of this application, both tones will create a pleasant frame effect on your eyes and help the blue tone to appear prominent and vivid.
See more about choosing the right type of eyeliner for your eye shape.
Mascara
While the black eyeliner you apply to your eyelid can cause a bad look on your eyes, the black mascara you apply to your eyelashes in several layers will give your eyes a more vivid appearance.
So, Which Lipstick?
If your eye makeup is assertive, you can choose more natural tones on your lips. That's why we recommend choosing lipstick in peach and nude shades for smokey eye makeup.
However, if you prefer simple makeup for blue eyes, you can stand out on your lips. Dark red, matte lipsticks that are not too bright and eye-catching will be suitable to add vitality to the look.
See Also: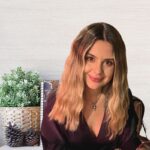 As a nutritionist, I research, find and experiment with recipes, natural diets and meal plans for weight loss, bodybuilding, and detoxing.