Let's Find Out the Top 5 Eyelash Extensions Application Mistakes
The most difficult part of makeup is applying for eyelashes extensions! When it comes to completing the eye make-up and the eyelash extensions, the result is often a fiasco.
But the reason eyelash extensions and eye makeup are such a struggle is that most people make mistakes when applying them.
Today we will explore the top 5 eyelash extension application mistakes commonly made.
5 Eyelash Extensions Application Mistakes
Before moving on to these mistakes, we should warn that when there are symptoms such as redness, itching, swelling, and watering in the eyes, extensions should be removed and checked by an ophthalmologist.
These symptoms can be a sign of a more serious condition, such as an allergy.
Sometimes even hypoallergenic extensions and glue can cause these allergies. In such cases, do not be late to remove the extensions and consult your ophthalmologist.
1. You Must Use The Correct Glue
You need to choose the right glue that allows the extensions to stick to the bottom of the eyelashes.
For example, instead of the glue that comes out of the box, we recommend that you buy the best eyelash glue available.
Because these types of glues have a stronger hold, they ensure that the extensions remain intact throughout the day.
When choosing glue for extensions, you should turn to black and transparent eyelash glue. If you are going to do eyeliner, you can use black eyelash glue.
If you want to apply light-colored eye makeup, you should use transparent glue.
2. Do Not Apply The Glue Directly to The Eyelashes
You should not apply for extensions directly to the bottom of the eyelashes.
Instead, apply the glue somewhere, dip the cotton pad into the puddle and apply the glue with the help of a cotton swab to the part where you will stick the lash.
This way, you do not apply too much glue and prevent your lashes from sticking together.
3. You May Be Using The Wrong Eyelashes Extensions
Yes, we know there are a lot of false eyelashes, but the important thing is which one of these looks suits you.
Especially if you are going to wear it for the first time, we recommend that you choose a more natural-looking style instead of those long eyelashes you see on social media.
When choosing eyelashes extensions, you should choose the ones that are suitable for the size and shape of your eyelashes. If you have short and skinny eyelashes, it is possible to get an extravagant look with XXL ones.
For this reason, when buying eyelashes extensions, you should choose the ones that are proportional to your eyelashes.
Remember, extensions do not work miracles in makeup, they only help make your eyelashes look fuller and more voluminous.
Quality of an eyelash extension matters when it comes to easy application. Here are the best eyelash extensions for you to take a look.
4. You Have to Dry The Glue First
The first thing you need to do when you take the eyelash extensions out of the box and start the process is to keep extensions with tweezers to hold your eyelash and wait for a short time to dry.
During this time, you can also apply some eye makeup to the eyelids.
By doing this, you will allow the glue to dry slightly to a thicker consistency so you can apply the lash more easily.
You can also apply the glue to your hands first and then pass it over to the extensions to make it tacky. If it's more practical for you, you can try this method as well.
5. You Shouldn't Use Your Fingers
You can only use your fingers when you are an expert in eyelashes extensions. But if you are not, you have to use the tweezers.
The tweezers gently grip the lash and allow it to stick to the glue without damaging it.
Now that you can apply for your extensions, now it's time to apply mascara! Impressive looks are yours with volumizing mascara and extensions!
See Also:
How to curl your eyelashes without a curler
How to change your eye color at home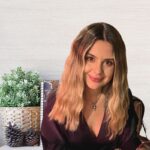 As a nutritionist, I research, find and experiment with recipes, natural diets and meal plans for weight loss, bodybuilding, and detoxing.