How to Change Your Eye Color at Home with Makeup
Did you know that you can make your eyes look different colors with a few makeup tips and the right color choices? Makeup can change many things about our face.
Different contour techniques can reveal our facial features, making our eyes and face look more illuminated and vivid than before.
What if we told you that you can also change your eye color with some makeup tricks?
It may be hard to believe at first, but you can change your eye color according to the color of your eye shadow or make your eye color more pronounced.
If you're wondering about makeup tricks that will make your eyes look different colors, you're in the right place! Here are the makeup tips you need to know to show your eyes in a different light!
How to Change Your Eye Color at Home
Ways to Make Hazel Eyes Green
If your eyes are hazel, you should prefer metallic tones in eye makeup to bring the green tones to the fore.
Especially with bright silver eye makeup, your eyes will look green and stand out. You can use the metallic and smoked tones in the eye shadow palette while applying metallic eye makeup.
To make your eye makeup look brighter and more radiant, apply your eye shadow with a wet brush, so your glittery eye shadow looks more metallic and wet.
You can create an attractive makeup look by combining the metal tones of your choice with dark-colored eye shadow while applying night makeup.
Even if you apply darker eye shadow to the outer corners of your eyes, you can be the most 'rocker girl' of the night.
The Effect of Blue Makeup on Eye Color
For brown eyes, the effect of blue hues is extremely great.
You can make your eyes stand out by supporting your eye makeup, especially using earth and bronze tones, with blue eyeliner on the outer corners.
Create an Illusion With Contrasting Colors
If you have light brown eyes, you should choose colors that will contrast with your eye color to bring even more warm tones to your eyes.
Pink, purple and metallic silver tones will bring out the warm tones in your light brown eyes, so your eyes will appear lighter than they are. Our suggestion for this is to use these shades.
Golden and bronze shades on brown eyes always help make the eye color look lighter. For this look, creamy eye shadows can be very useful as they have a brighter finish.
The sparkles in the bronze color help your eyes look brighter and lighter.
Especially when you combine bronze eye makeup with brown tones, you can show your eyes in a much lighter color and draw attention to your eyes.
Don't Forget The Importance of Choosing Clothes and Accessories
As you can show your eye color lighter and more colorful with the color choices in make-up, you also need to be careful in choosing clothes and accessories.
For example, when you choose clothes in the colors we recommend for the same eye makeup (such as blue, purple and metallic gray), the color of your eyes will be in the foreground.
Huge hats and necklaces attract attention completely when choosing accessories.
Since the aim here is to attract attention to your eyes, you should complete your combination with minimal jewelry and accessories.
Contour Technique For The Eyes
Apply your illuminator to the eye fountains and under the brow line.
Shadow the crease area of your eyelids with a dark eye shadow. Then apply your illuminator across your nose bone towards the middle of your forehead (between your eyebrows).
Apply and distribute the dark product to the sides of your nose for contouring. That's all!
See Also:
Eye makeup for glasses wearers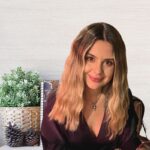 As a nutritionist, I research, find and experiment with recipes, natural diets and meal plans for weight loss, bodybuilding, and detoxing.