Which is The Best Eyeshadow Color for Hazel Eyes
No one can deny the sophisticated effect of hazel eyes. The mix of green, dore and brown fascinates all of us. This eye color is one of the rare eye colors worldwide, so if your eyes are hazel, you are very lucky!
Of course, a stunning hazel eye makeup look is necessary to sharpen this gorgeous eye color. You can try the makeup styles we recommend for your hazel eyes and create the perfect makeup.
If your mirror and makeup materials are ready, you can follow along step by step in this article!
But first, we need to remind you that things change a little regarding hazel eye makeup. Finding the right eye shadow shades can be a bit complicated as the eye has multiple hues. But, do not worry! Follow our suggestions to highlight your eyes best for your hazel eyes.
Best Eyeshadow Color for Hazel Eyes
1. Do Not Be Afraid of Colored Makeup
Women with hazel eyes should not be hesitant about colored eye makeup. Because there is almost no color that does not suit hazel eyes. You can make your eyes pop with vivid and bright eye makeup. Green, blue, orange, pink, yellow…
All these colors will suit your eye color and make it stand out more. You can try such vivid color eye makeup, especially for parties and nighttime outings.
2. Dark Tones Should Be a Go-To
The colors that best suit hazel eyes are usually dark tones. Smoky eye makeup is one of the styles that make the eyes stand out and make the eye color more pronounced.
Especially dark gray and black tones will create a perfect contrast with your eye color. Do not forget to apply a thin eye shadow on the bottom lashes while applying smoky eye makeup.
3. Green Eye Makeup for Hazel Eyes
You can also make green-toned eye makeup to highlight the green tone in hazel eyes. You can make the eye color more pronounced by combining pale green eye shadow tones and golden tones with each other.
You can apply green shadow to the eyelid, dark green shadow to the outer corners, and give a good effect to your eye foundation with golden tones.
4. Burnt Orange / Copper Shades
We see burnt orange and copper eye shadow in hazel eye makeup suggestions. These warm tones are ideal for making the color of your eyes stand out.
You can get an attractive look with misty eye makeup, especially by using orange, copper and gold tones together. You can apply orange tones to the fold area, copper shadow to the eyelid, and golden tones to the middle of the eyelid.
5. Classic Eyeliner Makeup
The classic eyeliner style that suits every eye will look completely different on hazel eyes. If you do not want to compromise your classic and elegant style while revealing the beauty of your eyes, the tailed eyeliner will now become a must for you.
6. Bronze Effect
You can get more striking looks with the metallic bronze tone, which is an ideal eye makeup tone, in both day and night make-up. The shimmering bronze color is one of the colors that will highlight the hues of your hazel eyes.
7. Colorful Choices in Eyeliner
Eyeliners in which purple shows itself are a vivid choice for blue and hazel eyes. You will see how your eye color will appear when applying high-energy purple eyeliner to your eyelids. Dark purple is best, but you can also opt for lighter shades.
Another color that allows you to get a romantic look is sea blue. Sea blue works are great with blue eyes as well as hazel eyes. The shimmery sea blue you apply under your eyes and on your eyelid is enough to make you stand out.
Learn more about Which Type of Eyeliner is The Best for Your Eyes?
To Make Your Hazel Eyes Slant More
You may want to consider using eyelash extensions to make your eyes look bigger and give them a slanting look. You will have more slanting eyes, especially if you prefer longer ones towards the ends.
It is essential to make your choice of eyelash extensions natural because extensions that look excessive and full can have the opposite effect.
What About the Rest of The Face?
You can color your cheeks with blush in honey, peach and apricot colors, and use pink and light lipsticks and brighteners on your lips.
See Also:
How to Make Your Eyes Look Brighter Without Makeup
How to make your eyelashes grow faster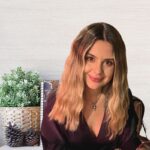 As a nutritionist, I research, find and experiment with recipes, natural diets and meal plans for weight loss, bodybuilding, and detoxing.