Let's Learn How to Wear Orange Eye Makeup
Orange eye makeup, which used to be one of the most suitable shades for summer times, is so popular that it is now preferred in all seasons.
If you are wondering how to do it, you are in the right place! We have brought together all the orange eye makeup options that you can do with one eye shadow or multiple to achieve a contrasting and striking effect.
Orange Eye Makeup
Orange tones create a very nice and warm effect, especially in smokey eye makeup. For this, all you have to do is to get a smoky effect by choosing light and a dark eye shadow in addition to the main orange color.
There are many orange eye shadow palettes available in all colors you need.
After applying the orange shadow to your entire eye, you can use a dark tone on the outer corners of your eyes and brighten the under the brow and eye fountains with a light color.
The most important thing to be careful about in this make-up application is to apply the orange shadow to the bottom of the lower lashes and to mix all the eye shadows until you get a smooth transition.
If you want to use a metallic orange shade in your eye makeup, it will be right to turn to copper eye shadows.
One of the most popular makeup trends, "sunset tones" is our favorite. You can find this palette in many brands.
If you are thinking about what goes best with orange eye shadow and you are looking for a little liveliness in your eye makeup, remember that pink will look great.
After using orange tones on the eyelid, a pink eye shadow on the bottom of the eyelashes will make you look very lively and energetic.
Not sure if you're ready for a bold orange eye makeup look? No worries! You can start your makeup by highlighting your fold area with an eye shadow of your choice.
It's time to apply the orange eye shadow! Set the foundation for this vibrant color to hold on by using a neutral shade on your eyelid to let your orange eye shadow stand out.
While this is not a 100% necessary step, adding eyeliner to this eye makeup look can take your makeup to the next level.
Use liquid eyeliners to create the sharpest eyeliner look. Then, apply some mascara to complete the look.
Another popular makeup trend nowadays is wet-looking makeup. You should try this.
Mix the orange eye shadow with lip balm if you ask how to get a wet look in eye makeup. And then apply it to the eyelids. That's it!
When using such vivid colors, it is important to prepare your eyes for makeup with a layer that will act as a primer before applying the eye shadow to extend the life of the eye shadow on your eyelids. This will create a smooth surface for your makeup application, extend the life of your eye shadow and make the color appear more vibrant.
To capture a softer image, fetch an orange eye shadow of your choice and apply it all over your eyelid.
Use a fluffy brush to blend the color in your crease area and smooth out any harsh lines. Since the orange eye shadow look is quite a bold application, eyeliner is unnecessary.
You can cover your eyelashes with your favorite mascara and finish your make-up.
We love pairing this orange eye shadow look with a brown smokey eye. The look is neutral enough not to take the spotlight away from the orange color but bold enough to define your eyes.
With your brown eye shadow, Start your make-up by highlighting your crease area. Then, point your makeup towards a smokey makeup.
Apply the orange eye shadow to your lower eyelashes and capture a remarkable image.
Monochrome makeup is one of the most popular makeups. If you want to try this makeup model, you should choose orange shades for skin, eye, and lip makeup.
See Also: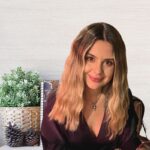 As a nutritionist, I research, find and experiment with recipes, natural diets and meal plans for weight loss, bodybuilding, and detoxing.