How to Make Eyes Look Slanted
Makeup styles such as smoky eye makeup and tailed eyeliner can be a nightmare for women with down-turned eyes. We understand this fully.
Eyeliner smeared on the eyelid can make the eye shadow makeup look worse.
We are ready to share with you some make-up suggestions that will make your eyes look more upturned.
6 Ways to Make Eyes Look Slanted
1. Correct Eyeshadow Application
Did you know that you can make your eyes appear slanted by applying eye shadow correctly? If you have downturned eyes, you should always focus on the outer corners of your eyes.
After creating a base by applying light-colored eye shadow, apply dark eye shadow to the fold line of the eyelid and distribute it thoroughly.
The dark color of the eye shadow should not remain like a line on the eyelids but should be distributed homogeneously.
Then gently apply dark eye shadow from the outer corner of your eye towards your eyebrow and pull your eye upwards!
When you finish the eye makeup, you should pay attention to the eye shadow intensity. It should not be horizontal but slightly upward towards the eyebrow.
2. Lighting the Inner Corner
One of the tricks to make the eyes look slanted and bigger is to apply illuminators to the inner corner.
After you've finished your eye makeup, apply the illuminator to the inner corner with a fine-tipped makeup brush.
You can use the illuminator generously while following this step.
By moving the illuminator slightly below and above the inner corner, you will make your eyes look more slanted and larger than they are.
3. Brighten Inside Your Eyes
You can give an assertive final touch to your eye makeup and make your eyes look bigger and slanted by applying white or tan eyeliner to the eyelashes.
If you complain about your small eyes, you may not believe your eyes after trying this tactic. We recommend that you use soft-tipped eyeliner while following this step.
Otherwise, you can cause all eye makeup to become watery and spoiled with the slightest mistake.
4. Stay Away From Dark Eyeshadows
One of the most common makeup mistakes is the use of dark eye shadows.
The darker color will make the eyelids appear smaller than it is. To make the eyelids look wider, you should use light-colored headlights.
Nude, champagne, light brown and light pink shades will help your eyes look more slanting.
In summer, you can look energetic and make your eyelids lighter by using colors such as light blue and powder pink.
5. Eyeliner
To make your eye structure look more slanting, you should get the help of eyeliner. You can apply eyeliner without smearing it on the eyelids.
We recommend that you use fine-tipped eyeliner to eliminate the eyeliner on the eyelid, which is the biggest complaint of those with downturned eyelids.
You should always start applying your eyeliner from the tail section.
After you have formed your tail, you can continue in a thin line from the bottom of the eyelash to the fountain of your eyes.
To make your eyes look more upturned, you should choose the thicker eyeliner style in the tail section and thinning towards the eye fountains.
If your tail is slightly tilted upwards, it will look more upright.
6. Voluminous Eyelashes
Low eyelashes can sometimes be the cause of low eye structure. Due to mascara techniques that will remove low lashes, you can make your eyes look more upturned and slanted.
While applying mascara, you should always concentrate on the outer corners of your eyelashes. You can always make your eyes look bigger and slanted with eyelashes that resemble angel wings.
Make sure the mascara is applied evenly to the lashes by applying the mascara in zig-zag movements from bottom to end.
When it comes to the outer corners, you can give density to these areas by turning the mascara slightly while applying.
See Also:
Eyeshadow For Different Eye Shapes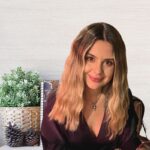 As a nutritionist, I research, find and experiment with recipes, natural diets and meal plans for weight loss, bodybuilding, and detoxing.