Here are the 6 Best Black Eyeshadow Makeup Looks
Black eyeshadow is almost every woman's favorite. Today, we will examine our favorite black eyeshadow makeup looks with you.
It is possible to achieve both minimalist and ambitious eye makeup models with black eye makeup.
Once you find the best makeup for you, non-bleeding eyeliner, permanent eyeliner, etc. we are sure that you will have great makeup. All you need is some inspiration and some makeup knowledge!
Let's Examine the Models One by One
1. Smokey Black Eye Makeup
One nighttime makeup style that suits every woman is black smokey eye makeup, flawless complexion and red lipstick.
We haven't come across a more assertive night makeup model yet! You can combine cream bronze and the blackest eye shadow color you find for smokey eye makeup that will highlight the color of your eyes.
Apply the blackest cream eye shadow you have found, spreading it toward the outer corners of your eyes.
To make your eyes look brighter, you can also spread the bronze color in the middle of your eyes and the crease line on your eyelids with your fingers.
2. Luminous-Black Eye Makeup
Who says black eye makeup can't be shiny? By combining dark eye make-up with your bright and sparkly eye shadow, you can make your eyes more prominent.
You need an easy-spreading jet-black eyeliner for this eye makeup look. If you make minor mistakes when applying eyeliner, you can spread them out to make it look more flawless.
You can harmonize your black eyeliner by applying the luminous shadow to the crease line on your eyelids.
3. Minimal Black Eye Makeup
The most iconic form of black eye makeup is the tiny-tailed eyeliner model. Who claims otherwise?
The tailed eyeliner style taken with jet black permanent eyeliner looks flawless all day long. We love this makeup that can be adapted for both night and day.
So, how can you draw tailed eyeliner? Drawing a cat-eye eyeliner model is very simple. First, determine the tail section by applying your eyeliner from the outer corner of your eyes upwards. Then, move from the bottom of the eyelashes and combine your tail and eyeliner.
4. Black Eyeshadow Makeup: Graphic Eyeliner
If you want to add a little modern touch to black eye makeup, you can use asymmetrical lines to help.
For those who will try the graphic eyeliner model for the first time, we recommend that they practice at home first.
If your eyes are looking deep and inward, lines drawn on the fold line of the eyelid can make your eyes appear deeper. Instead, you can make your eyes look bigger by drawing eyeliner just above the crease line of your eyelids.
5. Make Your Eyes Look Bigger
To make your eyes look bigger, draw black eyeliner on both the lower and upper eyelashes. But a few mistakes you make while applying eyeliner can make your eyes look smaller. First of all, do not advance the eyeliner to the eye fountain.
You should draw black eyeliner on 3/4 of your eyes and empty the eye fountain.
First, draw eyeliner from the base of your upper lashes to the outer corner of your eyes. Then do the same on your lower lashes.
To make your eyes look wider and bigger, apply your eyeliner starting from just below your eyelashes, not just below.
6. Jet-Black Lashes
The makeup trick that reveals the black eye makeup is undoubtedly jet-black eyelashes. You can use eyelash extensions or a strong effect mascara if you are afraid to use prominent eye makeup because you have short, skinny eyelashes.
If you prefer mascara, apply it carefully from the ends of the eyelashes. You can make the mascara enter between the eyelashes by making zig-zag movements.
See Also: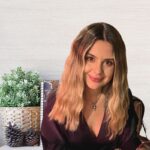 As a nutritionist, I research, find and experiment with recipes, natural diets and meal plans for weight loss, bodybuilding, and detoxing.