Here Are 4 Ways to Tint Your Eyebrows At Home
After dyeing your hair, it's time to dye the eyebrows. Although dyeing eyebrows seems easy, it is at least as difficult as dyeing hair.
You should find the right ways to tint your eyebrows at home and investigate issues such as bleaching eyebrows in detail.
We recommend that you make your eyebrows look flawless and make choices suitable for your hair color and skin tone. We invite you to read the rest of the article for a closer look at eyebrow tinting techniques.
How Should You Decide on Your New Eyebrow Color?
Before changing your eyebrow color with permanent dyes, you should use an eyebrow pencil, which is one of the eyebrow dyeing techniques, to learn how your eyebrows will look.
Try new eyebrow colors with eyebrow pencils and find the color that suits you best.
Change Eyebrow Color
You can change the color of your eyebrows after you have dyed your hair or with eyebrow dyeing techniques to make your eyebrows look a different color.
If your eyebrows are very light and vague, you can darken your eyebrows. People with very dark eyebrows, on the contrary, can make their eyebrows look softer by lightening their eyebrows.
Changing eyebrow color will instantly change the whole mood of your face and add a fresher vibe to you.
If you want to make a change in yourself but can't decide what to do, you can start by changing the eyebrow color!
Choosing the right color is extremely important in this regard, so when choosing your eyebrow color, you can choose a shade 1-2 tones darker than your hair.
Lightening
To lighten the eyebrow color, you must find the color that suits you best. Light eyebrow colors look more natural, especially in summer.
You can try the following techniques. Once you find the eyebrow color that suits you best, you won't want to change it again!
You can use eyebrow dyes to permanently dye your eyebrows and make them look more natural. Eyebrow dyes are less risky than hair dyes.
Using eyebrow dye to lighten the color of the eyebrows creates the most ideal result.
Among all the techniques we will talk about in a moment, eyebrow dyes provide the most permanent solution.
You can also use these dyes for eyelashes. If you want to lighten the eyelash color, you can paint your eyelashes with a clean mascara brush.
Lightening With Eyebrow Pencil
If you want to change your eyebrow color daily or want to experiment with an eyebrow pencil before changing it permanently, you can use this technique easily.
Using the eyebrow pencil, you can preview how your eyebrows will look after they have been tinted. When choosing eyebrow pencils, you should try soft-tipped and easy-to-apply eyebrow pencils.
Since you will paint all of your eyebrows, you should do the eyebrow tinting process without breaking them.
You can also use eye shadow to paint faster. Don't forget to fix it with eyebrow gel after using it.
Darkening
You can get help from products such as eyebrow pencil, eyebrow dye or hair dye to make your eyebrow color appear more defined and darker.
When darkening your eyebrow color, you should check if it suits your skin color and makes sure your eyebrows look natural.
While darkening them, we recommend that you pay attention to whether it suits the hair color.
Darken With Eyelash-Eyebrows Dye
You can use eyebrow and eyelash dyes for a permanent change in your eyelashes. You will not encounter an unexpected result as this type of paint is produced for eyebrows and eyelashes.
You can take inspiration from hair color to darken your eyebrows. While darkening your eyebrows, you can go from hair color to 2-3 shades darker. Darker may cause an artificial appearance on the face.
Darken With Eyebrow Pencil
The most practical product you will use to darken your eyebrow color is an eyebrow pencil.
On the days when you use dark dress from head to toe and when you want to apply dark color to your makeup, darkening your eyebrows with eyebrow pencil will give you an attractive appearance.
Of course, you should first choose an eyebrow pencil that suits your eyebrow color.
See Also:
How To Pluck Eyebrows For The First Time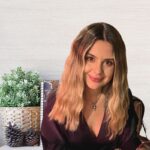 As a nutritionist, I research, find and experiment with recipes, natural diets and meal plans for weight loss, bodybuilding, and detoxing.