How to Become a Travel Nurse
How to become a travel nurse – If travel nursing is appealing to you, then you must be wondering how to become one.
This career path is perfect for those interested in the healthcare field as it offers benefits such as visiting new places, career flexibility, and competitive pay.
It is the perfect opportunity to gain skills and make a difference in the lives of patients.
How to Become a Travel Nurse – Basic Characteristics
The immediate vision of being a travel nurse might be traveling to exotic destinations, however, that is not necessarily true.
A travel nurse is one employed by an independent nursing staffing agency instead of a single hospital. This means a travel nurse can travel to a different country or work at a local hospital.
A successful travel nurse can excel in the role with the following requirements.
Enjoy experiencing new towns, cities, and organizations.
Have the freedom of choosing when and where to work, along with the duration of employment.
Enjoy the flexibility of creating their benefits packages, schedules, and income.
Thrive on challenges such as learning new organizational systems and workflows.
The travel nurse must be eager to learn new things to build their knowledge base.
Besides, having supportive families and friends can help travel nurses move forward in their careers.

How to Become a Travel Nurse? – 7 Steps
If you enjoy visiting new places, meeting new people, and building a variety of professional experiences at medical facilities, then you should consider becoming a travel nurse. Here are the 7 steps to becoming a travel nurse.
1. Understanding the Career and the Role of a Travel Nurse
Travel nurses work for independent staffing companies. The shortage of nurses makes it challenging to maintain staffing needs in the health sector.
Travel nurses play a significant role as temporary staff when nurses take a vacation or get hired by a different hospital.
Travel nurses come in contract to fill a temporary position with potential opportunities. The length of stay is usually between 8 to 26 weeks, after which travel nurses either extend their stay or move on to a new destination and opportunity.
Travel nurses can also turn their temporary assignments into full-time positions.
2. Earn ASN/ADN or BSN Degree
Nurses who have completed their associate's or bachelor's degree from an accredited nursing program are eligible to be travel nurses.
A Licensed Practical Nurse (LPN) to Associate in Nursing (ASN) degree helps one gain skills and experience. An Associate of Science in Nursing degree (ASN) for entry-level registered nurses (RNs) can be completed in 20-24 months.
A Bachelor of Science in Nursing degree (BSN) can be earned in 3 or fewer years. An online RN to BSN program can be completed in as few as 12 months.
3. Pass the NCLEX
After graduating with a bachelor's or associate degree in nursing, get the National Council Licensure Exam NCLEX-RN exam. It lets you become a registered nurse in the United States.
One can gain enough experience in the nursing specialty by becoming RN, which further helps pursue opportunities as a traveling nurse.
4. Choosing Specialization
Besides state licensing, you must get certified in Advanced Cardiac Life Support (ACLS) and Basic Life Support (BLS) before signing on to a travel nursing agency.
Specialization might require additional licensing. Two years of experience in nursing is enough to receive a specialization that creates more opportunities.
5. Apply and Get a Nursing License
To become RNs, a license is required in the particular state. The Nursing Licensure Compact (NLC) agreement allows RNs to hold a single nursing license in numerous states.
The National Council of State Boards of Nursing tracks states that have enacted and implemented the NLC. The state that is part of NLC allows multi-state licenses, however, the license is required in the state of work in other cases.
6. Find and Apply to a Travel Nurse Staffing Agency
After acquiring the required education, experience and credentials, find a travel nurse staffing agency.
The benefits vary with each staffing agency, so keep detailed notes about the offered packages and available positions.
7. Start your Travel Nurse Career
After completing the necessary paperwork, begin with interviewing.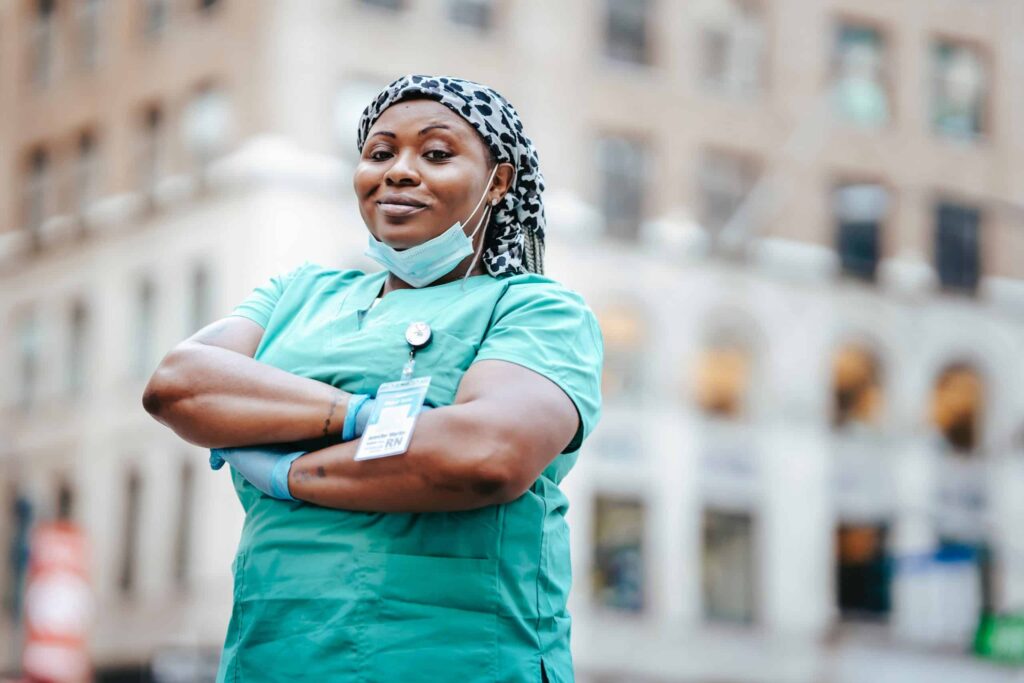 Conclusion
While wondering how to become a travel nurse, make sure that you desire to explore new areas, experiences, places, people, and have a better understanding of healthcare.
If you possess all such traits, follow the steps to attain the required qualification and criteria and become a successful travel nurse.
Enjoy your exciting career move!
See Also