We are not in favor of monotony so don't worry we do not propose a "routine" that will bore you but acquire a series of daily habits that improve the quality of life in the long term.
How to start your day
When we sleep, our body, in addition to resting, takes the opportunity to regenerate, nourish and recover to start a new day. Therefore, it is very important that when we wake up we perform a few simple steps to reactivate.
The first thing is to do some stretching to oxygenate your blood, then some morning shower, since it helps us clear ourselves after a restful night, and a couple of other beauty habits. Here is our selection of five steps to add to your morning routine.
1. Brush your skin before showering
You need a natural vegetable bristle brush to gently brush your dry skin before showering. Start with your left leg and follow upward movements until you reach the arm. Repeat the ritual for your right leg to the right arm.
With this, you will activate the blood microcirculation and your lymphatic system, responsible for the elimination of toxins from the body, and eliminate dead skin cells. You will oxygenate the skin and activate the removal of fat cells, resulting in the gradual removal of the dreaded cellulite.
2. Do not shower with very hot water
Always try to keep the water at body temperature and always end with fresh water. This will help you close the pores of your skin and as a result, you will have it firmer. It will also wake you up completely.
3. Hydrate your skin with oil
Before drying, moisturize your skin with some vegetable oil. You only need a small amount: a few drops in your hands are enough for your whole body.
You can use olive, almond, argan, rosehip, coconut oil… You choose! And let your skin absorb it. Once absorbed, dry, remove excess water and oil and be ready to dress!
4. Wash your face with cleansing milk
Always remember to wash your face with cleansing milk and apply tonic or floral water, as this will regulate the pH of your skin that will look smoother. Always moisturize before using your makeup.
5. Drink hot water with lemon
To start with more energy, before breakfast, drink hot water with a few drops of lemon. This little ritual will help you cleanse your digestive system, activate it and give you energy in the most natural way!
And – it also helps burn excess fat! So surprise yourself, you will feel lighter during the day.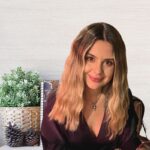 As a nutritionist, I research, find and experiment with recipes, natural diets and meal plans for weight loss, bodybuilding, and detoxing.