Best Makeup Tips for Older Women
There's no "one-size fits all" rulebook for older women any more than there is for younger women, but there are a few general tips, tricks, strategies, and products which will generally work well for most, if not all, older women.
1. Everything starts with great skincare
Any makeup artist will tell you that even the best makeup in the world is only as good as its base. This means you need to keep your skin properly clean and toned as well as moisturized.
Some older women become nervous about cleansing and toning their skin because they worry that it will accentuate issues such as larger pores or even cause damage.
These are legitimate concerns, but the solution is to cleanse and tone gently, using products designed for older women.
If you don't cleanse and tone effectively, what will happen is that you probably won't get off your makeup properly, which will cause (more) skin problems and will also cause fresh makeup to look uneven because some of it will have been applied over layers of older makeup.
2. The best makeup for older women tends to be moisture-rich
Even if you had the oiliest of oily skin when you were younger, it will dry out as you age and it will become more vulnerable to damage for example from the weather (especially the sun) and indoor climate control.
As a minimum, stay away from dry products, use their liquid, gel, or cream alternatives.
Ideally, look for products that have some element of protection (e.g. SPF) or which help to boost your skin's moisture (to slow down the development of fine lines and wrinkles).
If you had dry skin when you were younger then you absolutely must treat your mature skin with the greatest of care.
You actively want to boost your skin's moisture as much as you possibly can, for example by looking for products that contain hyaluronic acid.
3. BB cream can be your best friend
Even younger women often benefit from using some kind of foundation, for older women it can be essential to create an even skin tone.
At the same time, you do not necessarily need full coverage all day every day. The solution is to use BB cream as your everyday option and keep a full-coverage foundation for when you need it.
In both cases, look for products with sun protection and ideally with anti-aging properties.
4. Consider switching out regular mascara for permanent mascara and/or false eyelashes
In principle, there's nothing wrong with using mascara as an older woman. In practice, if you wear glasses, and even more if you wear contact lenses, mascara can be a bit of a hazard.
Permanent mascara doesn't flake the way regular mascara can, and false eyelashes can be a fun and effective way to "glam up" a bit for an evening out.
5. Your eyes can still shimmer
You don't have to give up on eyeshadow as you get older, but it pays to be smart about how you use it. The golden rule is that you only ever use cream eyeshadow.
The powder is now completely out. You probably want to avoid anything massively dramatic as it will emphasize any fine lines and wrinkles you have, but if you wear glasses, you might want to use a slightly stronger shade as it will be viewed behind the glass.
Avoid glittery shades completely, but you can use a little bit of shimmer on the lid itself, just make sure it stays below the brow bone.
6. Use CC cream or concealer to brighten the under-eye
When you're younger, dark circles under your eyes are often signs you had a great time the night before. When you're older, dark circles can be a fact of daily life, but the good news is you can deal with them.
Get some CC cream (in a brighter shade than your foundation) or some moisturizing concealer and define a triangle under each eye (pointing downwards).
It tricks the eye and you might be surprised what a difference such a simple trick can make.
7. Your lips are the most delicate part of your body
The skin on your lips is the thinnest anywhere on your body, which means that you need to take particular care of it.
Use a proper lip scrub and then put a layer of concealer on top of it and then a layer of lip balm on top of that before you apply the liner and the color.
It's best to stick to gloss shades as matt shades are more drying, but if you're desperate for a matt finish, look for products that are enriched with moisturizer.
Pro tip – even if you're not in the habit of using lip liner, now is the time to start. It will make your lips look better by giving them a definition, so learn to love it.
8. Make time for blusher
A subtle touch of cream blush can brighten up mature skin and give it a youthful glow.
If you're not convinced, then buy some shades you'd be happy to use on your lips and/or eyes, and that way if you decide it's not for you, you can still get your money's worth out of it.
You can also look beautiful without makeup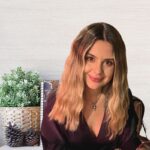 As a nutritionist, I research, find and experiment with recipes, natural diets and meal plans for weight loss, bodybuilding, and detoxing.